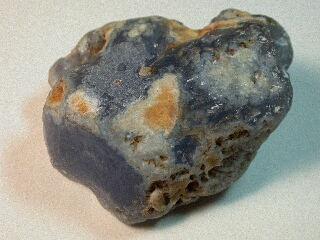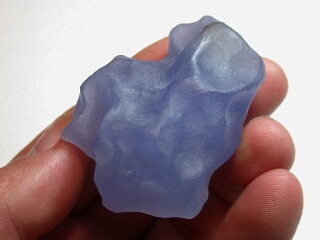 This is a very nice quality Ellensburg Blue nodule. All three photos are of the same stone taken from pretty much the same angle. We decided to polish this amazing gem as whole nodule. The color is exceptional.....and this is very possibly the largest cut and polished Ellensburg Blue Agate of this quality in existence.

Original weight was 547.75 carats. With matrix removed it  weighed 363.65 carats.  Final polished weight 313.95 carats.This stone has been sold.

We will soon be adding pages to our website featuring Ellensburg Blue stones that ARE for sale. There are more photos of gems from this deposit on our Blue Chalcedony pages and on the pages that display the jewelry of J. Chapa Hernandez. Large numbers of visitors to our site are looking to find out more about this gem. We do our best to provide quality images and accurate information about the gem varieties we work with .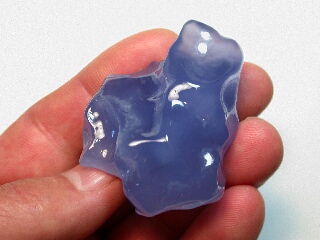 Two small freeform stones were carved from fragments removed during cutting of this nodule

We are currently working on another large, fine, Ellensburg Blue.